---
Your Best Playing Times for

® Guild Events & Sessions




Please complete the ® Sessions & Events Poll by clicking on the link below and following the instructions (You do NOT need to sign up on Doodle):



http://doodle.com/4zgxmuzsnprhsasz
Make sure that the correct Time Zone is selected (should be done automatically).
Click on: "Show all 84 options".
Enter your Name.
Select ALL Times which are BEST for you to Play.
Click on "Save".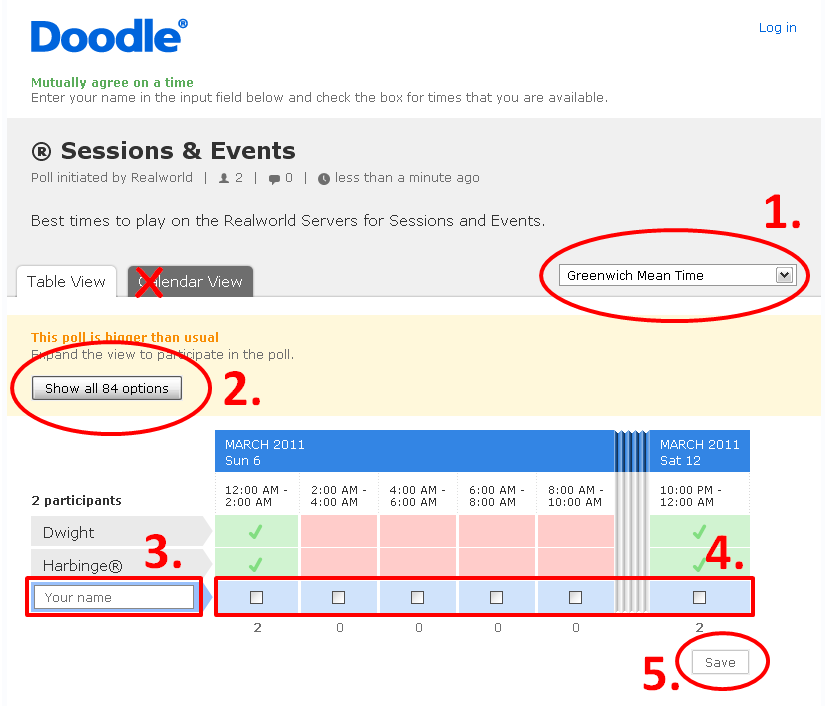 We highly suggest you do NOT attempt submitting Votes in the "Calendar View Tab", as it seems Buggy with this amount of options to choose.



Dates are irrelevant


This Poll displays an OVERVIEW of Days and Times you CAN regularly Play (during a "Normal Week")

select as many Times as you can but be realistic.





Please Note:


You CAN change YOUR OWN Poll Entries AS WELL AS others. Hence we rely on "Cooperative Behaviour", so we kindly ask you to ONLY change YOUR OWN Poll entries, and please also leave a message in this thread if you do so.

Thanks.